In previous blog posts I've commented on the condition of my hair and how I have to be careful what I use because of it. I have the worst combination of greasy roots and dry ends but with a sensitive scalp which can lead to an itchy, flaky scalp (which is insane given I have naturally greasy roots, I just can't win!).
I've been using Herbal Essences volume shampoo and conditioner recently as I found a volume shampoo helps with the greasiness a bit more but I still heavily rely on dry shampoo by the day after I've washed my hair and I usually have to wear it up as it just looks too slick for my liking. Herbal Essences irritates my scalp though and it's resulted in a couple of sores where I scratch (yes I have checked for nits before anyone comments lol) so the search continued for a shampoo and conditioner combo that could help my hair woes.
Standing in Superdrug, infront of the multiple bottles, preferably looking for something with a pink sticker under it, I finally found "The One"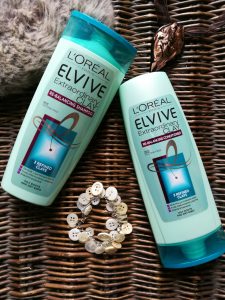 L'ORÉAL Elvive has always been good to me as I use the Colour ones when I dye my hair, it really does help keep the colour going for a bit longer. I had seen the Extraordinary Clay shampoo and conditioner before but it hasn't ever been on offer when I was looking so didn't pick it up, oh how I'm regretting that now!
This shampoo and conditioner and specifically designed for greasy roots and dry ends so I was quite excited to see what they'd do. I think I was expecting a thicker consistency due to it being "clay" but it's not, it's exactly the same as a usual one and if anything, the conditioner is a little watery compared to a normal L'ORÉAL conditioner. Straight away, still standing in the shower, my roots felt squeaky clean, I don't think I've ever had that feeling before! This did worry me slightly though as I thought the ends of my hair would be the same but they weren't. When dried, my hair looked clean, shiny and had more volume than the volume shampoo had given me!
I think the greatest thing though; I managed to wear my hair down for 2 days without the use of dry shampoo! Even on the 3rd day, I used some trusty Batiste but my hair was tied up in a low ponytail not scrapped up in a bun to try and hide the roots. Additionally, my itchyness has eased up so that's even more of a bonus.
I've definitely found my new favourite hair products and I'm hoping it will still work when I dye my hair soon and not strip the colour too much.