Well it didn't take me long to try the contents of this box! It was a makeup based one though so it was never going to be too long.
So this month's box has been such a big seller it has actually sold out! Clearly a lot of people wanted to find out if they were a #GlossyMermaid or a #GlossyUnicorn.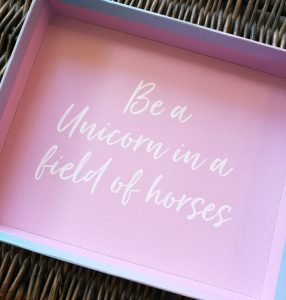 The unicorn box I received was just the prettiest box ever, so much attention to detail has gone into it and the products inside were just as nice. Just to recap, they were: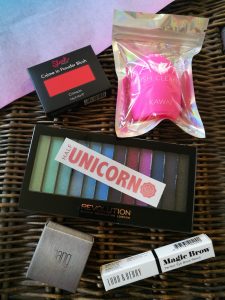 Sleek Makeup, Crème to Powder Blush in Crimson
Kawah Enterprise, Brush Cleansing Egg
Lord & Berry, Magic Brow Perfect Eye Brow Pencil
Bang Beauty, Cream Colour
Makeup Revolution, Mermaids Vs Unicorns Eyeshadow Palette
Half Unicorn Sticker
As usual, I'll start from the top!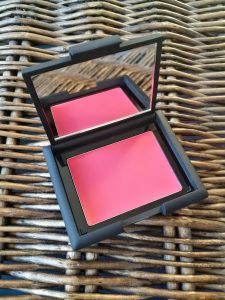 Sleek Makeup, Crème to Powder Blush
If you've read my previous box reviews then you'll know that I am not a fan of Sleek products. I thought things would be the same with this, especially with how bright the colour is, but…. I actually quite like this! I made sure I kept the rest of my makeup subtle just so I wouldn't accidentally look like an 80's throwback. I was a bit sceptical wiping my blusher brush across the top as there didn't seem to be much go on, it must of done though as the colour came off onto my cheeks. It was a bit patchy to begin with but it soon blended and evened out and the colour was a lot more subtle than I expected. Priced at £5.99 I would definitely buy this again and I'm pretty happy that I've finally found a Sleek product I like!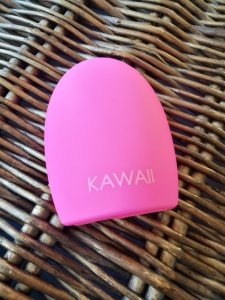 Kawah Enterprise, Brush Cleansing Egg
I didn't really know what to make of this little egg but I have never been so eager to clean my brushes. It slides over your fingers and you use the bumps and ridges to run the bristles over, removing makeup residue with warm soapy water.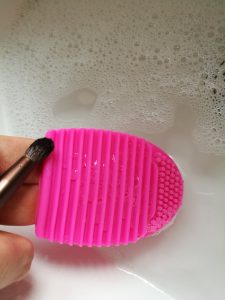 It turned out, my brushes were grim! This little tool is going to be a much needed asset to my makeup bag!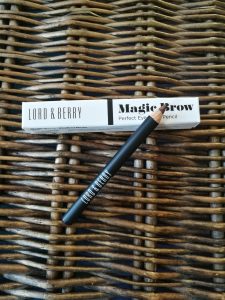 Lord & Berry, Magic Brow Perfect Eye Brow Pencil
I've used this every day since getting in and there's things I like and things I don't. I can't remember the last time I didn't have my eyebrows on. Once upon a time I only used to do them if I was going out and if anyone done them for me I ended up looking like something from a horror movie. Thankfully I have now learnt to do them a way that I like but I still have to use quite a dark colour as my natural hairs are nearly black.
This pencil is made for brunette's and has a marbled point with 2 brown shades, unfortunately it is a bit too light for me but it still works really well. The product is waxy so it actually holds your brows in shape as you fill them so no need for a separate wax or gel. I think £14 is a little steep for a pencil, especially as my usual kit is priced at less than £3.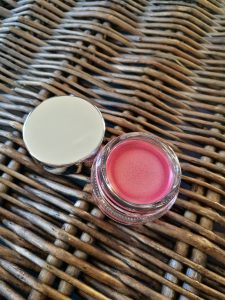 Bang Beauty, Cream Colour
This little pot is amazing! It is a beautiful pink shimmery cream that can be used for anything. I used it on my lips to begin with and it gave them a rose gold tint which lasted a good few hours. I have also used it as a highlighter on my cheekbones which went really well with the pink colour of the Sleek blusher. I'm not sure I would pay the £19.50 RRP but it is a really cute product and it is going to get used a lot!
Makeup Revolution, Mermaids Vs Unicorns Palette
This was one of the items I had seen in the box previews and I was actually on the verge of purchasing for myself anyway. I am a massive Revolution fan and already have a few of their palettes, 2 of which are the Urban Decay dupes. This palette is stunning! The colours are really vibrant but easily blended so you can really play around with some dramatic looks by building up the colour or keep it low key by blending them out. Either way, my makeup is now going to be a lot more colourful! Another bonus is this palette retails at just £4! It's an absolute bargain.
Fingers crossed I won't have to wait as long for the November box as I did for this month's one, they're always worth the wait though!
Thanks for reading!