Scan Bran is a Swedish crisp bread, a little bit like Ryvita but harder. I've been sent a load to join in with the Scan Bran Challenge and see how it can help aid weightloss.
My slimming group went mad for the stuff last year and we had the biggest losses as a group my consultant had ever seen. My favourite way of using it was as a cake so it was the first one I had to try. Scan Bran is available from Amazon or Holland & Barrett and probably the most fibrous thing you will ever eat!
Eating it as a dry cracker can be a little tough so this recipe makes the a little easier to swallow. If you don't like chocolate you can always try my Victoria Sponge instead. The jam makes it a bit more flavoursome without adding too many calories.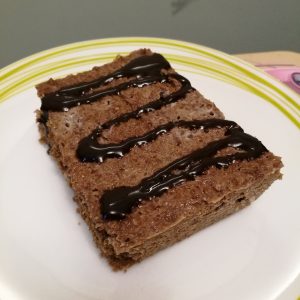 Ingredients
5 slices of GG Crispbread Scan Bran
2 tbsp of sweetener
2 whisked eggs
1 coconut Light & Free yoghurt
1 tbsp of coconut Choc Shot
Method
Pop the scan bran into a microwave safe container (takeaway pots work really well for this) and pour some boiling water over them and leave them to soak it up.
I tend to keep an eye on them and add a little water at a time to make sure the whole slice is soaked through.
Once softened, mash with a fork. Add the whisked egg, yoghurt, sweetener and Choc Shot then mix well.
Pop the mixture in the microwave and nuke on full power for 7-8 minutes.
It should come out slightly moist but springy, not soft. Leave to cool then cut in half. I can only manage to eat half in one go as it is so dense. I also topped mine with a teaspoon of coconut Choc Shot to give it a bit more flavour but honestly, this will keep you full for AGES!
Enjoy!