Scan Bran Victoria Sponge (well not quite)
Scan Bran….. You either love it or hate it and I must say, I quite like it! Now, please don't expect this to be like a proper Victoria Sponge because it's not but as far as low calorie, high fibre cakes go, this scan bran Victoria Sponge is a decent one!
Scan Bran makes quite a squidgy cake but it's heavy, not light and fluffy like a proper sponge. I had half a cake as breakfast and could barely eat lunch which is not like me!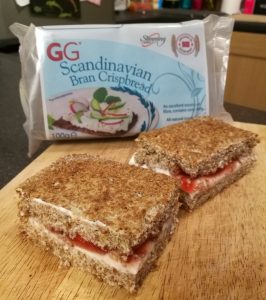 Ingredients
5 Slices of GG Crispbread Scan Bran
2 eggs
1 vanilla Muller light
5 drops of vanilla extract
2 tablespoons of sweetener and a bit extra for the cream
Half a pot of quark
2 teaspoons of jam
Method
Start by soaking your Scan Bran in a microwavable pot (I use a takeaway container) in boiling water, I add a little water at a time to make sure I don't flood it. You want it to be able to mush to a paste really.
To your mushy scan bran, add the eggs, 2 tbsp of sweetener, 3 drops of vanilla extract and the yoghurt then mix VERY WELL! Pop the pot in the microwave and zap iton full heat for 7-8 minutes.
Turn it out on to a cooling rack and leave it for half an hour to cool.
Once cooled, cut it in half lengthwise to make a sandwich. Spread the jam on one half then make your cream. Mix the quark with 2 drops of vanilla extract and about a teaspoon of sweetener then mix. It will stiffen a little bit and then spread that in to the other half of your cake and sandwich together.
Ta dah! Ready for afternoon tea!
I did dust the top of mine with a little more sweetener but it was really only for decoration.
If you fancy a bit of chocolate rather than a scan bran Victoria Sponge then why not look at my Chocolate Cake instead.
Enjoy!