December Glossybox Review
So here we are, the last of my Glossybox posts for 2017, where has the last year gone! I did consider doing a post about my favourite products that came from these boxes this year but let's face it, I doubt I'll have the time unfortunately. Plus, I've had so many great things that I think I'd find it hard to narrow them down. I'm probably better off doing a list of things I didn't like which would just consist of everything from Sleek Makeup (I'm sorry if you like it but see my previous reviews for my reasons).
Anyway, I digress as usual. Here's what the gorgeous December box looked like:
I thought this one was really pretty! Glossybox teamed up with a company called Dusty Boy Designs who are an award winning paper goods brand for this design and I'd hope to see more collaborations in the future as this one worked so well.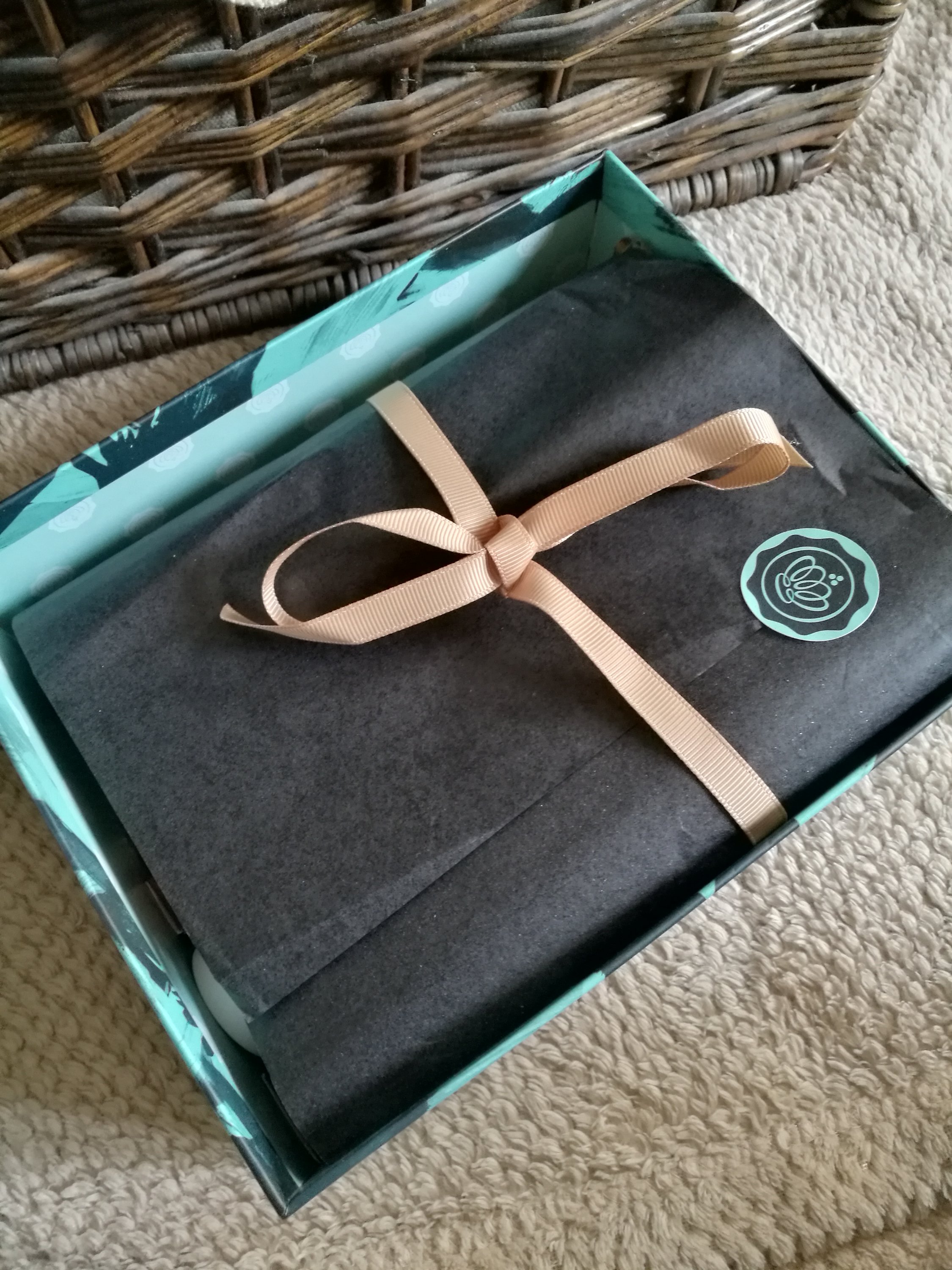 The inside was just as beautiful with a black and gold theme (my 2 favourite colours). And here's what I received this month:
Laqa & Co Cloud Lips
Kryolan Eyeshadow Primer
Lypsyl Mirror Compact
Steve Laurant Precision Tip Eyeliner
Naobay Equilibria Gel to Milk Cleanser
Raffaello Chocolates
As normal, we'll start from the top.
Laqa & Co Cloud Lips
We all know I love a matte lipstick and it's no different with this one! It's a really nice dusky pink colour and goes on really easily. It does flake a bit after half a day of wear but you don't notice too much due to the colour being quite subtle and you can easily apply another coat without it looking uneven. It does feel really light on your lips and doesn't dry them out too much but I do feel it drys them out a little after wearing it all day. The rose gold packaging has got to be the best part though, it is beautiful! Overall I quite like this product and the £12.70 price tag isn't too bad though it's a little more than I would usually spend.
Kryolan Eyeshadow Primer
I've never actually used eyeshadow primer before as I didn't think I had a need for it. I still don't think I have a great need for it but I've got to say, it is pretty good. I only had to use a small amount of primer on my eyelids as a little seems to go a long way. I did have so use more eyeshadow than I normally would though as it didn't seem to spread so well. Once I had got my eyeshadow on, though be it slightly heavier looking than normal, it did stay in place all day. I would usually have a line in my eyeshadow where the crease of my eyelid is by the end of the day but it wasn't there. I wouldn't pay £18.30 but it will last me a VERY long time due to the tiny amount you actually use, I'd probably find a cheaper alternative.
Lypsyl Mirror Compact
Lypsyl, the original lip balm and still the best in my eyes. I absolutely love this little compact, it's so handy to have a mirror as well as a really moisturising balm in your bag! I've been carrying around a random stick lip balm for ages and I know it's easy to apply balm as you don't really have to look at what you're doing but actually having a mirror to hand too is so handy! The formula in this balm is lovely, it smells really nice and makes my lips feel moisturised, gently repairing any cracks in the skin. £4.99 is a bargain for this and it would make a great stocking filler.
Steve Laurant Precision Tip Eyeliner
This was the only product I knew I was getting this month as I actually managed to avoid any spoilers but this one was on the "sneak peak" on the card insert in November's box. I was quite excited to receive it but I am bloody useless at applying liquid eyeliner. I have the shakiest hands in the world when I'm concentrating which really doesn't help with something as precise as this! Because it has a fine nib it seems to be a little easier with this product, I don't end up with a blob somewhere that I then have to try and even out. I can't do a big impressive flick with this, mainly because I'm not brave enough to try but also because I would need a stencil to get it equal on both sides! Again, the packaging is beautiful, I'm loving a bit of rose gold at the moment. I wouldn't pay £18 for it when I know I can get a Rimmel one for half the price which has a stamp on the tip for a perfect flick (which I really want to try) but this is a really nice eyeliner and is really easy to use, even with my shaky hands.
Naobay Equilibria Gel to Milk Cleanser
This has got to be one of the strangest things I have ever used. You apply it to dry skin as a gel, add some water and voilà, it turns to a milk. The gel has the consistency of honey and it almost smells like it too. It's hard to apply as it doesn't spread easily so you need quite a bit to cover your whole face but then that means it doesn't wash off as easily as you'd expect either. The idea is that you rub water in to turn the gel to a cleansing milk then just wash away but it's not quite that simple, it leaves a bit of a sticky residue that takes a wipe with a flannel to remove. I hate using germy flannels on my face so this is not ideal in my eyes. The hefty £15.99 price tag is a bit much for my liking too. It doesn't upset my skin though so I have been using it quite a bit and my skin does feel soft after use. It's something I might buy if it was on a half price offer.
Raffaello
These were an added Christmas treat and I'm pretty grateful as I'd never tried them before. They're pretty much a white chocolate and coconut Ferrero Rocher; my favourite chocolate! They didn't last long.
Well that's it for December. I have of course seen one sneek peek for next month and I'm going to do my best to avoid any others. I can't wait to see what else is coming in the New Year!
If you fancy one of these boxes for £10 a month + P&P then sign up using the link below and you can get 20% off your first box!
https://www.glossybox.co.uk/referrals.list?applyCode=CARLY-R25&li
I hope you all have a great Christmas and happy New Year!