Evening!
Tomorrow is a rather big day for me and it's a busy one! Little Miss and I are off to do some catwalk modelling for my friend's bridal shop. This will be the 3rd time I've done it but the first time Little Miss has been with me. So we're ready to go bright and early we have both had a shower and I saw this as a perfect opportunity to review a couple of items.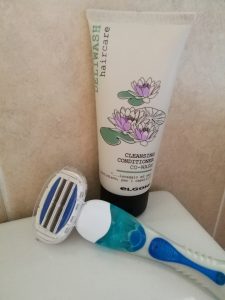 Dorco Eve Razor (The Beast)
This was bought on a whim a few days ago. It was one of those cases of being bored, scrolling through Facebook and an advert pops up in your Newsfeed; "Try me FREE! (Just pay postage)".
Normally I don't click on them as postage is about a million pounds and you know you can find a cheaper option elsewhere (usually on Amazon) but I was in need of a new razor and the ones I like are usually quite expensive so I had a look. To my surprise postage was only £1.95!!
I couldn't really turn that offer down and hey, I've got a blog to run, I need things to blog about.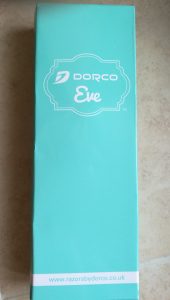 Delivery didn't take long, only a couple of days but where the postman shoved it through my letterbox he had managed to squash the box a bit, luckily the razor was fine though. It does look a little scary at first glance, it has 2 triple blades so it's quite large.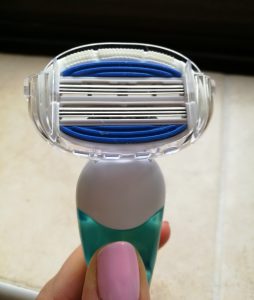 In comparison to the small triple bladed disposable razors I've been using, this thing is a giant!
I was a bit scared using it on my underarms but it worked a treat and because it's so large I was done in 2 seconds. Next up was legs. I'm having to be careful of the backs of my legs at the moment due to having new tattoos that are still a little scabby but I managed to miss them but still get close enough to get the surrounding hairs.
My legs feel really smooth on my shins but the sides (where the calf muscles bulge out slightly) still feel ever so slightly stubbly. I think it may be where the head is so big it doesn't quite flex to the shape of my leg properly but I'm really impressed with how smooth the rest of my legs are. Now, the bikini line…. I didn't even bother, it's far too big!
Elgon Deliwash Cleansing Conditioner (The Beauty)
I got this in last month's Glossybox but because I'm lazy and only wash my hair every 2 or 3 days I haven't had chance to use this yet. Because I don't want super clean hair for tomorrow (we all know how clean hair doesn't play ball when it comes to styling) this was a perfect opportunity to put this to the test!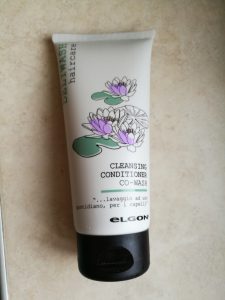 This is a cleansing conditioner so it's designed for everyday use and isn't as harsh as normal shampoo. It is really simple to use, just the same as shampoo but it doesn't foam, it has the texture of conditioner. You leave it on for a couple of minutes then rinse. I can definitely see how this would save daily hairwashers time and it smells amazing! My hair definitely feels cleaner than it did but not squeaky clean like shampoo leaves it which is just what I need! I will definitely use it again when my hair needs a refresh and I have enough time to wash it rather than spraying half a can of dry shampoo in my hair which gives me an itchy scalp and then looks like I have dandruff.
I can't find where to buy the hair cleanser online (apart from good ol' Amazon) but the razor is available here:  https://www.razorsbydorco.co.uk