Slow Cooker Pork Casserole
We've had crappy weather here lately so a bit of comfort food was definitely needed tonight. There's nothing better than a veggie filled, Slow Cooker Pork casserole!
Any slow cooker meal is the ultimate comfort food in my eyes. A casserole is no exception to that rule.
To me, this slow cooker pork casserole is winter in a bowl. I have a few favourite slow cooker meals but another good one for winter is this Pepperpot Stew.
There's just something so warming about a slow cooker meal. It also makes life so much easier too.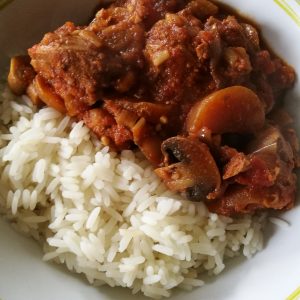 Ingredients (Serves 4)
600g of diced pork (fat removed)
1 tin of chopped tomatoes
2 leeks, sliced
1 large carrot, sliced
1 small pack of button mushrooms
2 tsp of Very Lazy Garlic
250ml of chicken stock
2 tbsp of tomato puree
1 tbsp of paprika
1 tbsp of smoked paprika
Pinch of pepper
Method
It actually couldn't get much simpler, just chuck everything in the slow cooker, stir and leave it on the Low setting for 7-8 hours.
You can give it a stir every so often if you're about but I like doing this one when I go to work! This is why I love my slow cooker so much!
It's the ultimate in lazy cooking really!
Serve with rice or mashed potatoes for the  ultimate comfort meal!